Old Stereo Viewer




Stereo Image Photographs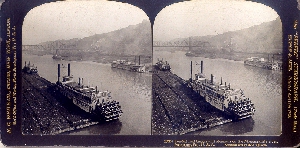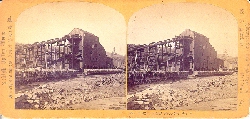 Antique stereoview camera can been seen at http://www.cprr.org/Museum/Ephemera/Stereo-Cameras.html

To view more than 85 pictures, use the Next & Back buttons.

The mining photographs shown here are stereoview photographs taken by a camera with two lenses situated about 3 inches apart (equal to the distance between your eyes).

 

When these photographs are seen through a 3D viewer, the side-by-side photographic prints are fused by the brain to see the image in three dimensions.

 

Half of each stereoview photograph is shown here.

 

Stereoview photography became popular during the American Civil War, and remained so through the 1920's. Photographs shown here with yellow card borders were taken between 1868 and 1876 by M. A. Kleckner, a local photographer who spent his winters in the Bethlehem/Allentown area and summers in Mauch Chunk (present-day Jim Thorpe, Carbon County, PA), where he sold stereoview photographs to tourists.

 

Kleckner photographed anthracite mining scenes in the Panther Valley area near Mauch Chunk.

 

Photographs shown here with gray card borders were taken between 1900 and 1940 by the Keystone View Company of Meadville, PA, by the H. C. White Company in the bituminous coal region (1900-1910), and by Underwood and Underwood (1895-1910). None of the early images by M. A. Kleckner show miners working inside underground mines.

 

It was not until the use of electricity in mines that pictures were safely taken underground, and for the first time showed miners and the public a full view of the underground working environment.

 

The only light that early miners had was from small lamps on their hats.

 

These photographs show the difficult working conditions of Pennsylvania's early coal miners and their working wives and children.